stuffed minced meat roast
500g
Minced meat, mixed (pig, beef)
150 g
Root vegetables (carrots, celery, parsley)
2
machland machland gourmet pickles
2
tablespoons oil (e.g. sunflower oil)
We recommend: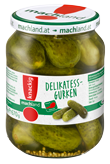 gourmetpickles
Preparation
(preparation time approx. 30 minutes)
Wash and clean the root vegetable, finely dice and briefly simmer in a pan, stirring constantly.
Mix the minced meat with the eggs, stuffing, chopped onion and root vegetable, and season with the spices.
Cut the cucumbers into strips.
Form a roast with wet hands from half of the meat mass, flatten and place a cheese roll smeared with grease into it.
Spread the pickles on it and cover with the remaining meat mass. Preheat oven to 160 degrees and roast for 30 minutes, first open, and then cook covered another 20 minutes.
Spices
Marjoram, thyme, salt and pepper, garlic, chopped parsley