pork goulash
1
tablespoon paprika (gourmet)
1 - 3
machland machland hot peppers
1
teaspoon salt (or 1 beef stock cube)
We recommend: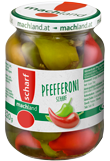 hot chilipeppers
Preparation
Peel onion, cut into cubes and fry in oil until light brown.
Dice the meat, sprinkle with lemon juice, and briefly fry on all sides.
Sprinkle and mix the paprika in with the meat (only cook paprika briefly, as otherwise it can become bitter).
Pour in the water and bring to a boil.

Add the peeled and sliced ​​tomatoes, peppers (hot), salt (or beef stock cubes), caraway, marjoram, garlic cloves (crushed) and tomato paste, and cook briefly for an hour.
Shred the potato and stir into goulash. Cook with potato added for several minutes (stirring occasionally). If necessary, dust the goulash with flour on hand and stir well to thicken it (some goulash recipes advise baking the pork goulash, but I don't find this as good, and it is uncommon in Hungary and Austria). Season, take off the heat and let stand.