Cream Schnitzel (for 4 people)
4
teaspoons mustard (tarragon mustard)
3
machland machland gourmet pickles
2
machland teaspoons machland gourmet pickle liquid
We recommend: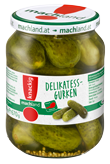 gourmetpickles
Preparation
(preparation time approx. 30 minutes )
Pound the cutlets , salt and pepper both sides and sprinkle one side with mustard, then dust with flour.
Quickly sear the floured side in hot fat, turn and sear on the second side also.
Pour in the broth, finely chopped capers, pickle brine and parsley, season with mustard, salt, pepper, sugar to taste, cook for about 20 minutes, and let it boil down.
Thoroughly mix the sour cream with the flour, and stir into the boiling sauce so that the sauce thickens, and season again.
This can be enriched with cranberry, and potatoes, rice, broad noodles or also green salad will fit as a side dish.